Laser Cladding
UHLATM – WWG's Ultra High-Speed Laser Application
The Birth of Ultra High-Speed Low-Temperature Laser Cladding
Market Trend on Laser Cladding
As far as Material Science (Powder Technology), Surface Engineering, Equipment, Manufacturing and Production innovation concern, scientists and researchers have been putting priority and tremendous attention into 3D Printing and Additive Manufacturing.
High Tech, High Power and High-Speed Laser with more sophisticated handling equipment, software, CNC automation and robotic arms integrations are undoubtedly at the "epicenter" of development focus. This trend and revolution will continue for many decades to come.
Why WWG Invest into Laser Technology Applications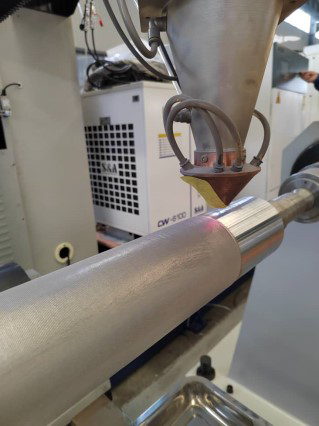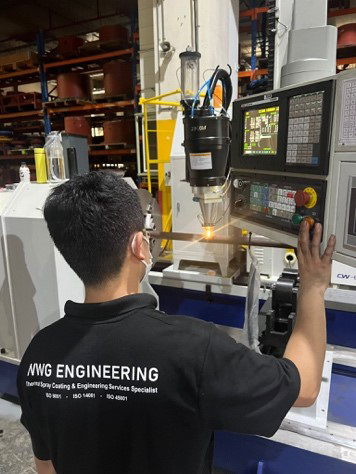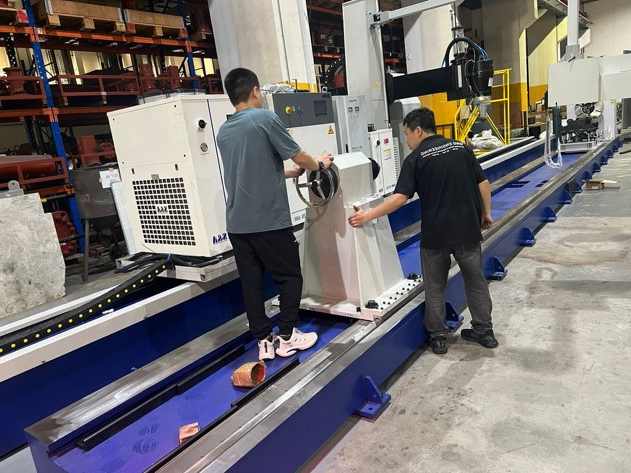 1) Widen Technology Offering Spectrum
As a specialist in the Surface Engineering and Modification Technology, together with our Mechanical Workshop and Engineering Services competencies, we package ourselves as an Integrated Engineering Solutions Provider to our customers in the Marine, Process (Refineries, LNG Terminal, Petrochemical, Pharmaceutical), Offshore Oil & gas, Power Generation, Food and Water Manufacturing Industries. Laser Technology Applications is opening up a brand-new technology and business dimension forward.
2) Differentiation
Successful incorporation and launching of Laser Technology Innovations will place WWG Engineering on a very different platform with other market players. Thereby allowing WWG to project its uniqueness in presenting and competing itself into the Surface Modification Technology marketplace.
3) Leading the Change
We take the lead in setting the trend. Service providers of Laser Cladding usually working on smaller power such as 1-3KW, and working on smaller machineries. We are starting with 6 KW allowing high speed cladding deposition.
Starting off, with primary focus on Shafts. Very few in the region is targeting high power Laser source and large parts; with our capacity, we are proudly presenting the biggest capacity in South East Asia; we can handle parts up to diameter 1,600 mm X length 12,000 mm, fully automated.
The Advantages
In WWG Engineering's opinion, this process allows us to lower the production cost tremendously, and easy to price our services in the market while having the advantage of maintaining decent profit margin in terms of managing business competitions.
Customers Engineers always like new and exciting technology, and constantly looking up for alternative engineering solutions. The entry of our Ultra High-Speed Laser Cladding will automatically excite our customers to opt for such a new application.
Technically, Laser Cladding is "metallurgical" bonding versus typical Thermal Spray Coating's "mechanical bonding". Its deposition is "fused" onto the substrate, yet with no "heat affecting zone" that, with very low heat is transferred, impacting the substrate. Thus, there will be no material phase transformation to the substrate and distortion is avoided.
Excellent physical, chemical and mechanical properties can be achieved by laser cladding, which improves the wear resistance, corrosion resistance and oxidation resistance of the surface [1].
Limitations
Laser Cladding is typically only possible with metals & alloys and is not suitable for depositing ceramics or polymers.
Laser cladding applications
Laser Cladding is widely used in aerospace, chemical machinery, marine, automobile, medical, nuclear and oil & gas because of its low dilution rate and good metallurgical bonding with the substrate [2],[3].
History of Laser Cladding
Did Albert Einstein Invented Laser?
When we think of early days technologies… it is easy to think of Albert Einstein.
Here, it is not Einstein who has invented Laser, but rather, the discovery of his theory, had contributed to subsequent Laser Invention.
In 1916 Work by Einstein
Back in 1916, Albert Einstein's theoretical work has suggested that, under the proper circumstances, atoms could release excess energy as light - either spontaneously or under light stimulation.

Simply, Einstein has imagined, how electrons forced into unstable orbits in an atom, could lead to release of energy by atoms.
Historical research could also see that, so many scientists and researchers had contributed to the exact laser invention.
In 1917 Theodore Maiman.
Theodore Maiman builds the first working prototype of a laser at Hughes Research Laboratories in Malibu, California.
In 1957 Richard Gordon Gould.
As a time where physics research was booming in the USA, Gould was a PhD student at Columbia University, where he had successfully conceived a huge design, Invention of The Laser.
In 1958 Charles Townes, Arthur Schawlow.
A proof of concept for the laser was published by Charles Townes and his colleague Arthur Schawlow. Together with their employer Bell Labs, they had filed this patent.
In 1960 First Laser Succeeded. Theodore Maiman.
It was only until May 16th, 1960, Theodore Maiman made the first laser operate at the Hughes Research Laboratory, California. He did it by shining a high-power flash lamp on a ruby rod, with silver-coated surfaces.
In 1970, Laser Cladding was born.
When Laser was adopted as an energy source to melt and deposit coating, it was then named "Laser Cladding". Simply, cladding process using laser as an energy source.
It was only until late 1970's, Laser Cladding was introduced to the Surface Engineering Technology.
At that time, this was a mere Traditional Laser Cladding Application. The process was expensive and not able to gain popular applications.
In early years, only industrial giants for example GE Aviation and equivalent companies were able to invest into such an expensive coating deposition process. Scenario of course has changed over time. Mainly because of many new laser process improvement, that able to reduce operating cost, plus, many development work on newer and broader Laser Cladding applications.
In 2017 High Speed Laser Cladding
As technology evolves, there were on-going effort contributing to more advanced Laser system and Cladding process development. This was to make ownership of Laser Cladding equipment and process more affordable, and operationally more economical. A key factor also includes Laser Beam Deposition Speed.
Invented in Aachen, EHLA was designed and patented winning multiple award. This was developed by the Fraunhofer Institute for Laser Technology ILT in Aachen.
In 2023 WWG's concept of Ultra High-Speed Laser Cladding (UHLATM)
The Birth of Ultra High-Speed Low-Temperature Laser Cladding
As the largest integrated Engineering Solutions workshop in Singapore, WWG Engineering sense the weakness and the incompleteness in formulating Surface Engineering Solutions. There was a serious urge to create a faster, simpler, and more economical system to replace Hard Chrome and HVOF coating processes, as far as shafts and rods are concern.
Objective is very clear. To achieve low investment and versatile industrial applications, main deciding factor for such a UHLA system would be Cladding Speed, Powder Deposition Method, Powder Applications and Temperature Parameters. This is designed in conjunction with a multi-axis CNC machine or robotic arm system.
More development work undertaking by WWG Engineering is still on-going.
References:
Jian Cheng et al., ''An Overview of Laser Metal Deposition for Cladding: Defect Formation Mechanisms, Defect Suppression Methods and Performance Improvements of Laser-Cladded Layers'' Materials (Basel),2022 Aug,15(16), 5522.
Lida Zhu et al., ''Recent research and development status of laser cladding: A review'' Optics & Laser Technology Volume, 138, June 2021, 106915.
Anas Ahmad Siddiqui et al., ''Recent trends in laser cladding and surface alloying'' Optics & Laser Technology, Volume 134, February 2021, 106619.